Once in favor of the community.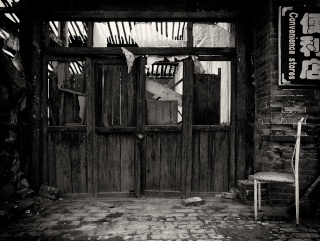 Daniel Bretonfield owned a mom and pop general store just across the street from the Viska United Bank. Unlike the 'franchise' of federal banking conglomerate's insurance with the neighboring building, Danny found that the only protection he reserved from the radiation was a panic room near the back of the store, next to the office.
In it, he was believed to have sanctioned himself in with two other customers, with hopes of surviving the fallout on that fateful day. Instead, all three of their bones lay to rot in that room, with the door creaked a little open.
Danny's remains rest across the floor, near a table with a lamp and a dead light bulb inside. The other two are in a pile near the wall. It would seem that Danny resorted to cannibalism and ate the women that were in the room with him. Feeding from their insides little by little, his being survived about a week and a half, drinking his own urine.
After such time had passed, with hopes that it was all over, he opened the door to the panic room, letting the radiation engulf what was left of his sanity.
The majority of the products within the store were severely damaged beyond any repair from the fallout. However, there are many sealed supplies that only the packaging has suffered any effect.
This is the Bretonfield General Store.

_________________
"Killing is an intimate business. Like love, one shouldn't apologize or forgive for it more than one has to."